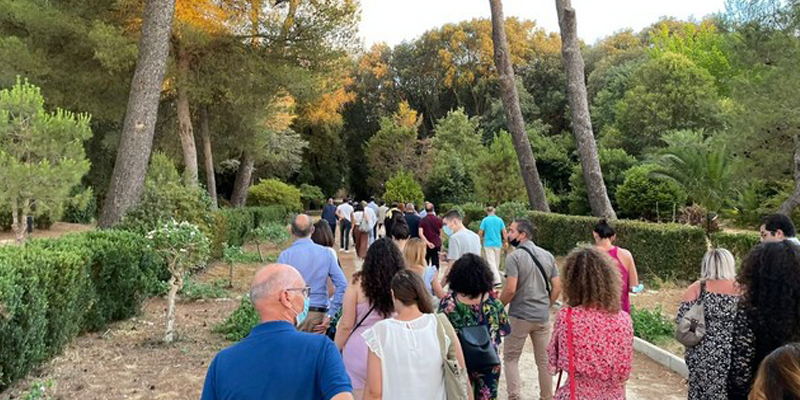 wISHfUl – Investment for accessibility of Villa Tamborino (Maglie - IT)
Overview
The "Villa Achille Tamborino" park is one of the most fascinating examples of historic gardens in Terra d'Otranto. The Villa was commissioned by the post-unification senator Achille Tamborino. It was designed by engineer Tommaso Pispico and completed in 1874 as a private garden of the opposite Palazzo Tamborino, from which the current Piazza Tamborino is physically separated by a public widening.
The Park opens behind a monumental pavilion, characterized by a neoclassical facade that closes the square like a scenography backdrop. Inside the pavilion, airy porticos highlighted by a polygonal loggia and originally conceived as glass greenhouses open towards the garden, overlooking a pitch from which the central avenue and other secondary paths branch off. The compositional scheme of the park can be identified in the separation between an area closer to the noble residence, full of flowers and with an "Italian" garden, and a more distant one in which an attempt is made to reproduce or maintain some characteristic aspects of the landscape agricultural worker from Salento. Both are scattered with "romantic" elements in the form of bridges, caves, metal gazebos, artificial elevations and more. The direct connection between the two areas is guaranteed by the central straight avenue, which opens in line with the main entrance and ends with o long ramp, which leads to an artificial mound surmounted by an eclectic oriental pavilion.
Erected with the functions of belvedere and coffeehouse, the polychrome octagonal kiosk, varied in colours as in the materials used, stands on some artificial caves and is characterized by a pitched roof that recalls the drapery of a "Turkish tent", surmounted by a spherical dome with eight segments and decorated with parallel red and yellow bands. The mix of nature and artifice continues with other caves present in several points of the park, all artificial but internally covered with natura! stones, fragments of coloured glass, pottery shards, shells, stalactites, and stalagmites of all sizes specially detached from caves of the Salento coast. The largest one, below the belvedere, has trompe l'oeil frescoed walls with marine and lake landscapes, signed "D. Palma" and dated 1881.
This point of interest has been restructured within the IPA CBC INTERREG Italy-Albania-Montenegro wISHfUl project, to improve accessibility, for families and, above all, for people who have motor difficulties. Improvement of the practicability of avenues and paths has been done through a regularization of the walkable surface and a restoration and enhancement of the lighting system. The interventions were carried out in compliance with the historical-artistic constraint without altering the perception of the existing spaces and environments.
Here you can see a Photogallery of the Villa Tamborino restoration public presentation, together with a presentation of the restoration works.